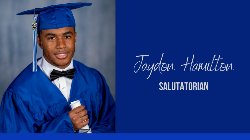 What

ACT Elite Scholars Limo Ride

When

5/28/2021, 10:45 AM

–

11:00 AM

Where

In front of the school under the breezeway
Our ACT Elite scholar, Jaydon Hamilton, Senior Class of 2021, is being rewarded with a limousine ride to Mike Anderson's Seafood Restaurant in Gonzales this Friday, May 28, for his academic achievements along with four more scholars in the district.

Let's be Jaydon's cheerleaders by lining up outside, in front of the school, showing him the support. Feel free to make signs to show your support to cheer him on!